---
Announcements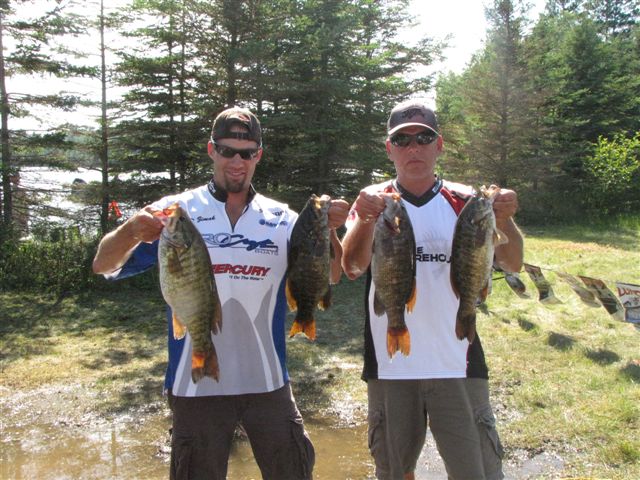 Trevor and Ken Zimak, took a commanding lead after day one of 16.66 pounds. Their day one bag of bass also contained the big bass of the tournament. It weighed 4.22 pounds. Day two the winds were calmer and it looked like it would be a better day for fishing. The motor gods were not along side of many teams as a few were towed in and some limped into the final weigh in. As teams were weighing in and 99.99% of the field were stacked at the weigh in area, it was 3:58 p.m. official tournament time. Many wondered where Team Zimak was. A fleeting thought came over some thinking that maybe they might be one of the teams plagued with motor problems. Finally out in the distance, rounding Castor Island, we all saw a very large rooster tail and a boat at as fast as it could go. Team Zimak crossed the line with only a few seconds to go! Once the weigh in was complete Team Zimak weighed in a 15.30 pound bag to win the 2012 Shebandowan Smallmouth Showdown! See Full Standings.
David Williams and Shane Manford took 2nd place with 28.38 lbs.
Luc Diotte and Louis Marcotte took 3rd place with 28.05 lbs.
---
Sponsors 2013
D&R Sporting Goods

Team Clark

Halís Jigs/Miltís Rod & Reel Repair
---
Volunteers
The Shebandowan Smallmouth Showdown would be impossible to operate without volunteers. In the past they were essential to help assist us with boat inspections, set-up and tear down of equipment, weigh-in, assisting anglers and much more!. Volunteering for the Shebandowan Smallmouth Showdown can be an asset for you and for the Shebandowan Smallmouth Showdown. Gain valuable experience and learn how a concept turned into a reality. If you are interested in volunteering for the Shebandowan Smallmouth Showdown, please refer to our contact section of the website.
---
Bernie Schnieders Memorial Big Bass Award

Bernie Schnieders, age 49 years, passed away unexpectedly on Sunday, July 10, 2005.

Bernie will be missed in our fishing community. Bernie loved his walleye fishing but he holds a world record live release smallmouth bass. Bernie will be remembered at the Shebandowan Smallmouth Showdown each year by awarding the Bernie Schnieders Memorial Big Bass Award, which is given to the heaviest bass caught during the tournament.